Such a beautiful day here in New Hampshire Nov 23,2014 and today how could one not take advantage and get outdoors? Having to take care of some work in the afternoon in the Seacoast we would not be able to do a big hike. We decided to head to Durham where we happened upon the Nature Conservancy's Lubberland Creek and Sweet trail Conservation area.
We parked at parking lot 3 located off Durham Point Road. Be sure to get a good look at the kiosk map as the paper map doesn't show all of the trail system. We began along a trail marked with diamond shaped tin tree markers. At the trail junction (signs) we went left headed North on the Sweet Trail. You stumble along the rocky, but flat to gradual trail past a marsh. As the trail turned right we walked down to the marsh shoreline to check out a beaver home. A larger beaver home sat out on the other side of the marsh and a small heron rookery can be seen on the Northern most section of the marsh.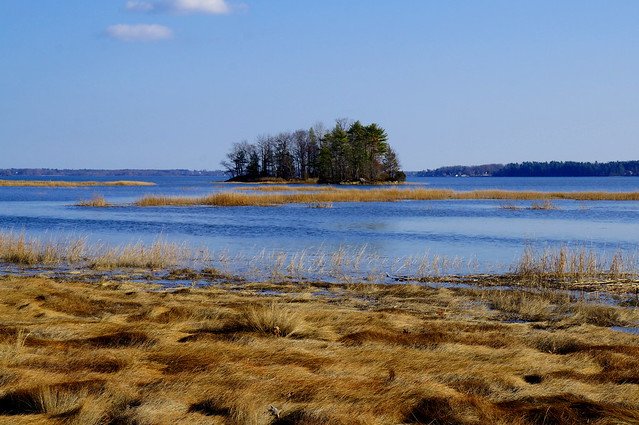 We continued along the trail climbing slightly along a rock wall and breaking right passing several attractive boulders and what I think may have been an erratic. The trail makes some small switchbacks (a few blow downs along this section) and then turns North again between two rock walls. This was an interesting section. The walls were too far apart to be an old carriage road. Maybe a cattle run? Due to a lack of time we went right here instead of following the Sweet trail left. We were now following Jakes Hill Loop trail (sign only at base of trail). This looped back down to the trail sign junction.
Here we headed down the South/South-East portion of Sweet Trail of .3 miles which crosses the road and follows a bog bridge section. It slowly descends down to a peninsula and ends at the mouth of the Lubberland Creek with benches that overlook the creek and the Great Bay estuary. What a beautiful spot! A quick snack and some pondering and we headed back to the parking lot. The whole trip was about a mile. We will certainly have to return to see the entire 4 mile Sweet trail when we have more time!