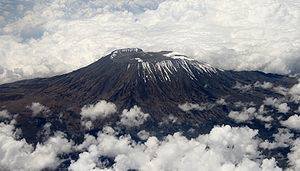 Mount Kilimanjaro is the highest free-standing mountain in the world  at 5,895 meters or 19,341 feet above sea level. 
Kilimanjaro is composed of three distinct volcanic cones: Kibo 5,895 m (19,341 ft); Mawenzi 5,149 m (16,893 ft); and Shira 3,962 m (13,000 ft). Uhuru Peak is the highest summit on Kibo's crater rim.
Kilimanjaro is a large stratovolcano. Two of its three peaks, Mawenzi and Shira, are extinct while Kibo, its highest peak, is dormant and could erupt again. The last major eruption has been dated to between 150,000 and 200,000 years ago.
Although it is dormant, Kibo has fumaroles that emit gas in the crater. Several collapses and landslides have occurred on Kibo in the past, one creating the area known as the Western Breach.
Marangu:
Nicknamed the "Coca-Cola" route due to the older days when Coke used to be bought along the way in tea huts
Often selected by unprepared, inexperienced climbers because of its reputation for being the "easiest" route, attributing to the lower success rate
The shortest and cheapest route, but less time to acclimatize, therefore lower success rate
Dormitory style accommodation in huts
Less scenic due to ascent and descent on same route
Shira:
High success rate.
Good for acclimatizationRemote and spectacular, dramatic gorges and views of west Kilimanjaro Converges with Machame on day 4 at Baranco.
Shira offers higher start point compared to Lemosho and poorer acclimatisationFully catered camping only.
Rongai:
Only northern approach to Kilimanjaro
Least scenic route
Offers a true wilderness experience on the early stages of the climb
Very tough final summit night from the north
Less acclimatisation opportunities
Less scenic and flat
Fully catered camping only
Umbew:
Steep, short route with lower success rate
Poor acclimatization because of rapid ascent
Very remote and quiet
Fully catered camping only